Gold has been stuck in a $40 trading range for over a month, building a base around the $1,800 level and looking toward higher highs.
Key Takeaways:
Gold has been trading sideways for a month, but external pressures are mounting to push gold back into its long-term bull market.
In August 2020, gold began a retracement phase. It looks like that ended in March, but we need a few higher highs to confirm the end of this bearish phase.
The government is fighting to either re-suspend or raise the debt ceiling, which is bearish for the U.S. Dollar and bullish for gold.
Gold lacks traction
The yellow metal cannot seem to hold onto its gains, but also refuses to incur major losses. Last week we saw a strange pattern where the price quickly shot up to $1,831, and then immediately dropped $20 in only a couple hours. Yesterday, the price dropped below $1,800 very briefly before jumping back to $1,805. Gains keep getting interrupted by steep selloffs, but the downward momentum is always short-lived.
Phases of the bull market
Let's step back and look gold's most recent bull market, which began in late 2015. Gold has cycled through three steps so far:
Rising Base
Growth
Retracement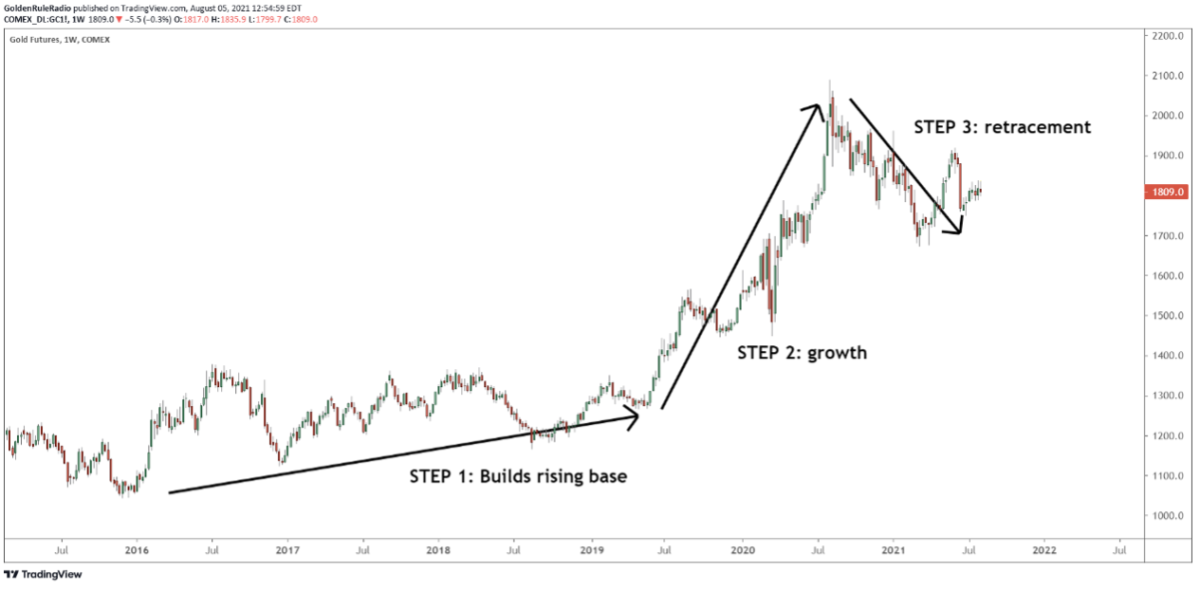 The rising base phase lasted from late 2015 to mid-2019, carrying gold from $1,060 to $1,279. The growth phase lasted from mid-2019 last summer when gold hit its all-time high of $2,070. Since then, gold has been in a retracement phase.
We won't know exactly when the retracement phase has ended until we have the benefit of hindsight. However, the double bottom in March 2021 still looks like it might have marked the end of gold's bearish trend.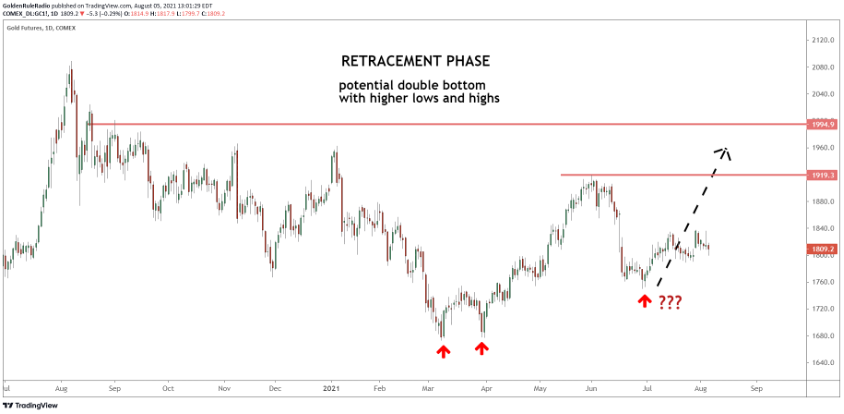 If we really have reached the end of gold's long-term correction, we would need to start seeing higher highs throughout this year and next. Gold would need to overtake the $1,920 mark, and preferably make the climb up to $1,965.
Each higher high helps confirm the hypothesis that gold has resumed the long-term bull market.
U.S. Dollar tries not to buckle
The Federal Reserve has started more serious discussions about interest rate hikes and tapering of asset purchases. Both would theoretically help the U.S. Dollar, which has been under extreme pressure since the beginning of the pandemic.
However, the Fed will not take these decisions lightly. Any changes to monetary policy pose a significant threat to the white-hot stock market, which thrives on cheap money and artificially low yields. Nevertheless, these measures might be necessary to tame inflation.
The U.S. Dollar has held up fairly well in 2021, although the Dollar Index has yet to put in any higher highs. As expected, most of the movement this year has been opposite of gold.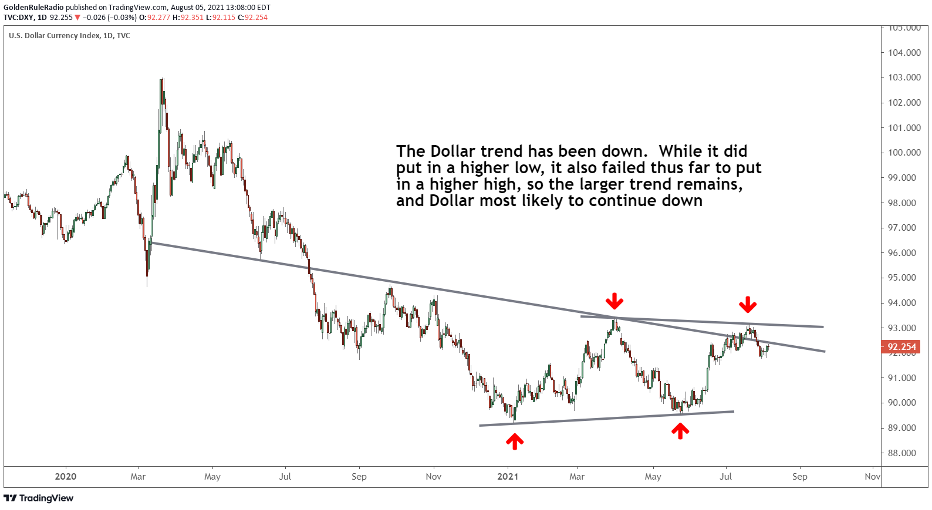 Debt ceiling discussions are bullish for gold
In 2019, the United States suspended its debt ceiling, allowing the Treasury Department to accumulate debt without any limit. Last weekend the debt ceiling was automatically reinstated. The Federal government is now racing to raise the debt ceiling so the Treasury can make its payments (pensions, government employee salaries, interest payments on debt).
Last time this happened, gold responded very favorably. Debt ceiling discussions are bullish for gold because they are very bearish for the U.S. Dollar. If the federal government is unable to raise the debt ceiling in time, the Treasury will run out of cash and might be forced to default on its debt. This has never occurred before and would inflict irreversible harm to the U.S. economy.
So, while raising the debt ceiling isn't great for the Dollar, the alternative is much worse. Either way, gold emerges the winner.
Secure gold savings, without the excessive fees.
Your weekly gold market commentary comes from our internal team of researchers and technical experts. Vaulted gives modern investors access to physical gold ownership at the best cost structure in the industry. With personal advising from industry experts and access to premier precious metals strategies, Vaulted is the key to life-long financial prosperity. Start protecting your portfolio today.
As always, thank you so much for reading – and happy investing!
Watch Golden Rule Radio for more of what's in store for precious metals in 2021.