Bullish stock market sentiment and unexpected U.S. Dollar strength are putting pressure on gold, while increased volatility in the equities and bond markets support safe haven demand for the yellow metal.
Key Takeaways:
The economy seems to encounter new risks every day, from the rise of COVID-19's delta variant to extended supply shortages and record inflation numbers.
U.S. Dollar strength and bullish stock sentiment are creating headwinds for gold, delaying the escape from its year-long correction phase.
Gold proved its value as a stable safe haven on Monday, emerging as one of the only winners during the sudden market volatility.
Trading sideways
Gold experienced a $65 rise in the first two weeks of July, from $1,767 to $1,832. The price has since dropped back below $1,800, a sticky spot that has yet to provide a solid floor.
We expect to see gold drop to the short-term .618 Fib ($1,782) or .786 Fib ($1,768) before resuming its upward climb. However, $1,750 is really the only number that matters on the downside. If gold drops below $1,750, the metal would turn short-term bearish and likely retest $1,680 (the location of gold's double bottom in March).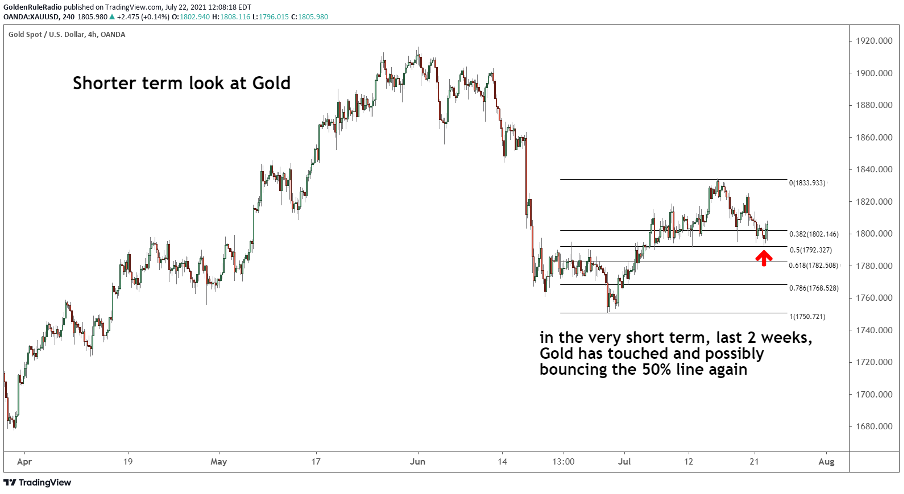 Regaining the stair-stepping pattern
Gold looks to be recreating the stair-stepping pattern that carried the price from $1,680 to $1,925 in April and June. If gold puts in a higher low in the next week, the price needs to overcome $1,925 and continue toward the peak we saw at the beginning of 2021 ($1,953).
With so many conflicting external pressures, this climb could be hard-earned and wrought with volatility. However, as long as the pattern of higher lows and higher highs stays intact, so does the short-term bullish case.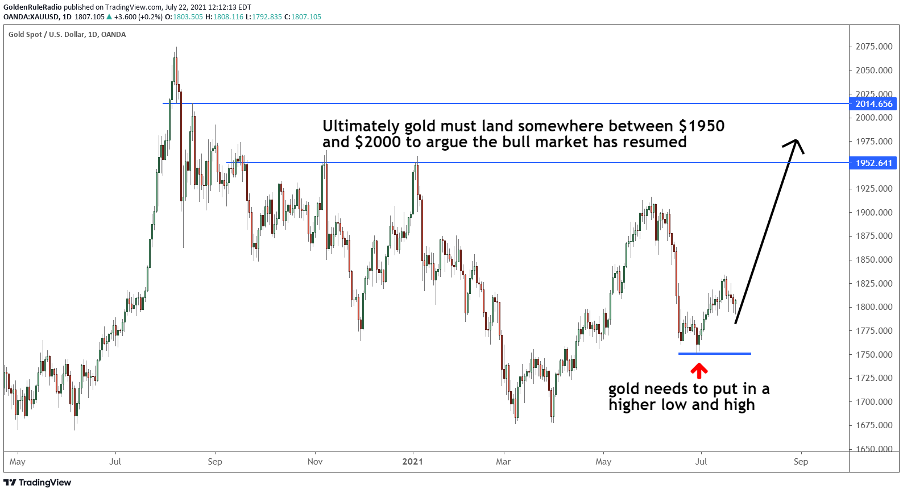 Conflicting price pressures
As we watch gold attempt to regain its strength in this long-term bull market, we must examine the forces pushing the price in both directions.
On Monday, the Dow Jones Industrial Average dropped 930 points, shaving almost 3% off the index's total value. During increased stock market volatility, you expect to see funds redirected to gold. The COVID crash of 2020, for example, carried the metal to its all-time high.
However, gold hardly reacted to Monday's drop. There are a couple of reasons for this:
Bullish sentiment toward the stock market is at its second-highest level in history. Many investors, especially those new to the market, are stepping in and aggressively buying every dip rather than redirecting funds to safe haven assets.
The Dollar index has risen almost 4% since May, a rather unexpected boost to the U.S. currency that puts pressure on the gold price. When the Dollar strengthens relative to other currencies, gold gets more expensive for foreign investors, therefore decreasing demand. Gold is priced in U.S. Dollars in all major markets.
Gold remains a top choice
Fortunately for gold investors, mounting bullish pressures are counteracting the bearish ones. On Monday, the 10-year Treasury yield dropped 1.181%, the biggest one-day decline since the COVID crash in March 2020. This drop signals decreased confidence in the United States' economic outlook.
The markets are sensitive to the rising threat of another COVID-induced downturn, as the delta variant spreads more rapidly. And of course, there is the threat of rapid inflation, which has far-reaching consequences for financial markets, governments, and individuals.
At first glance, it looks like gold's performance has been lackluster in 2021. However, gold's stability in the face of substantial headwinds should be very encouraging for investors.
On Monday, silver and platinum took a dive alongside equities, making gold the standalone winner. Silver and platinum are much more economically sensitive than gold, which acts as a safe haven in those kinds of short-term cycles. Gold will continue to be a reliable asset as the world grinds through this fascinating turning point in economic history.
Secure gold savings, without the excessive fees
Your weekly gold market commentary comes from our internal team of researchers and technical experts. Vaulted gives modern investors access to physical gold ownership at the best cost structure in the industry. With personal advising from industry experts and access to premier precious metals strategies, Vaulted is the key to life-long financial prosperity. Start protecting your portfolio today.
As always, thank you so much for reading – and happy investing!
Watch Golden Rule Radio for more of what's in store for precious metals in 2021.