As inflation metrics continue to break records, the U.S. dollar could be reaching a breaking point.
Key Takeaways:
Gold has been rising steadily for the past week, recovering from its $100 drop-in June.
Existing home prices have increased 24% over the last year and rent is up 9.2% in 2021, yet CPI only reflects a 2.2% increase in housing costs. When will CPI catch up?
Premiums on some precious metals products at record highs, reflecting a heavy increase in consumer demand for gold and silver.
Filling limit orders
Gold has been experiencing rapid declines followed by steady increases, a pattern likely caused by standing sell orders in the futures market. Zooming in close to the price chart, we see a lot of bouncing around the $1,800 mark.
A sell order is an order to sell a security at a specified price. Sell orders can stack up on certain prices (often correlating with Fibonacci levels and other popular trading indicators), resulting in rapid selling at those prices. Today's drop at $1,820 was a perfect example of this phenomenon. As sell orders are filled, gold meets less resistance on its path upward.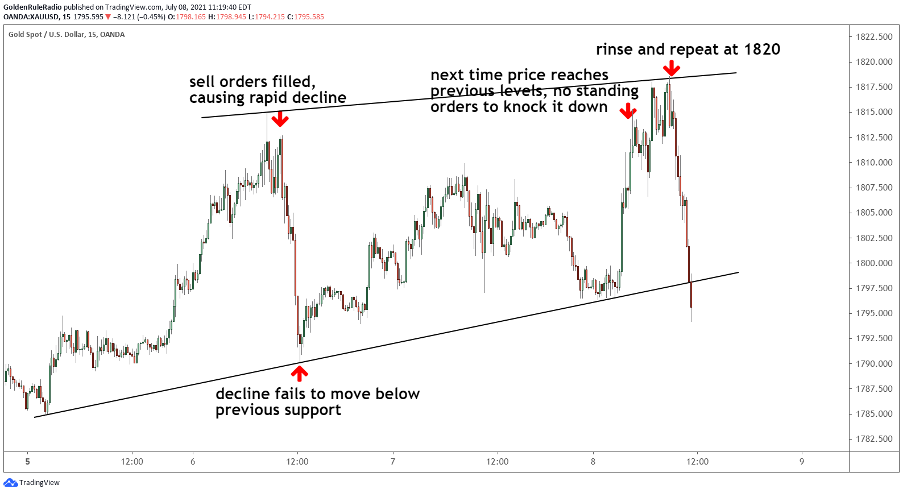 Where is gold's short-term bottom?
We would like to see gold retest one of its previous floors, either $1,730 or $1,690, before reversing to the upside. However, another $20-$30 price increase next week would immediately put gold on a path toward its May highs, which lie above $1,900. After that, the key target will be $1,951, followed by the all-time high of $2,063. Gold investors will want to have entered the market before the price approaches these higher levels.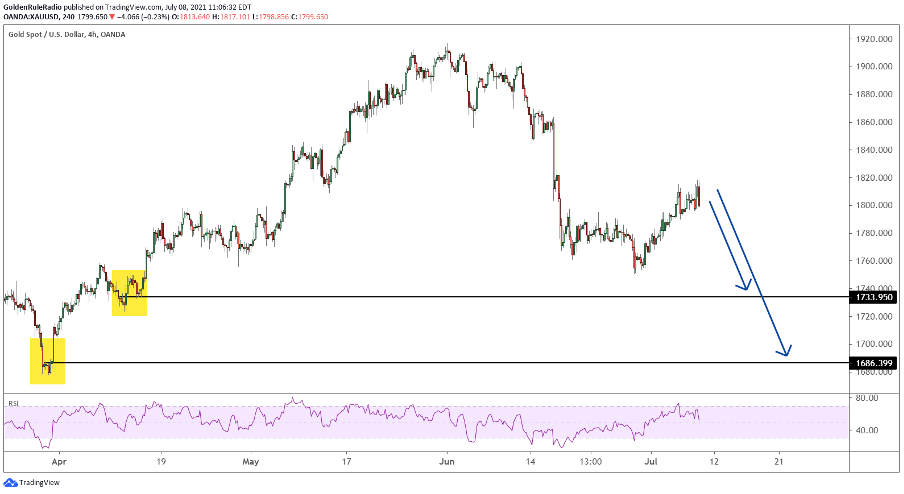 As discussed last week, RSI divergence is a bullish indicator. When the price is declining and RSI starts to point upward, gold tends to reverse its trend. Last week's divergence hinted at a potential reversal point.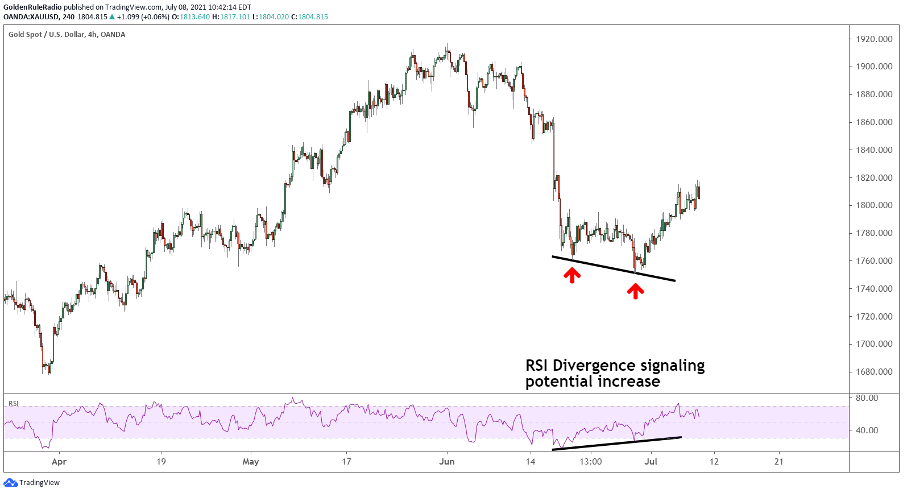 Dollar due for a correction
The U.S. dollar is negatively correlated with gold. Gold is priced in U.S. dollars in all major markets, so a stronger dollar makes gold more expensive for foreign investors. This week, we saw both gold and the U.S. dollar index move up simultaneously, which means one of the assets is probably due for a slight correction. Based on the high RSI values of the U.S. dollar index, the currency looks overvalued. The dollar also just reached its declining trendline, which could provide a ceiling.
A drop in the dollar over the next couple of weeks could strengthen gold's upward trend.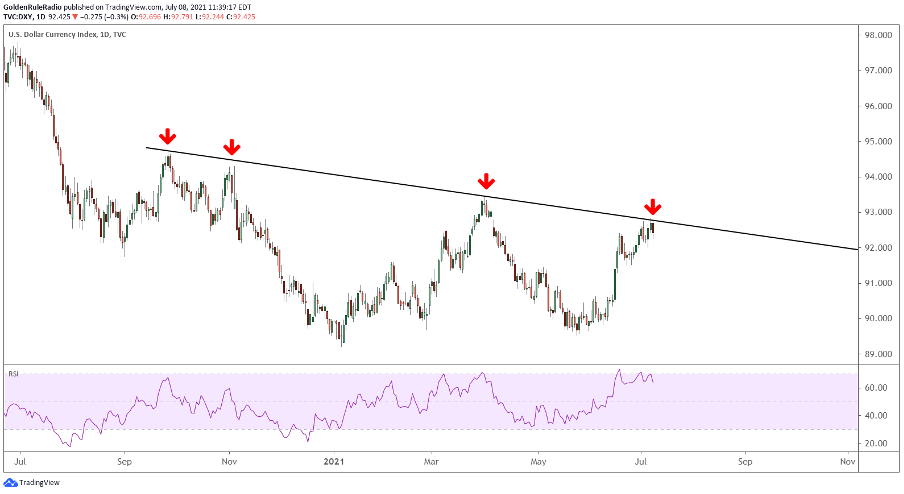 Sell your dollars
Q3 2021 is a really good time to "sell your dollars." Inflation metrics are breaking records every day, encouraging investors to move into tangible assets that protect purchasing power.
For example, a record number of small businesses are reporting wage increases. Desperate for employees, firms are being forced to increase wages to compete with unemployment benefits. Eventually, the consumer will bear the extra costs of these wage hikes.
The average new car price just topped $40,000 for the first time ever. Existing home prices have increased 24% year-over-year, the largest increase in the database dating back to 1999. Rent has increased 9.2% so far this year, the fastest increase on record.
Since shelter is one-third of the CPI, you would expect the CPI to be skyrocketing in response to these huge increases. However, according to the CPI, shelter costs are only up 2.2% year over year. The CPI is massively understating housing inflation, which cannot go on forever.
Eventually, the U.S. dollar will suffer the consequences of lost purchasing power. When that happens, precious metals owners will be the beneficiaries.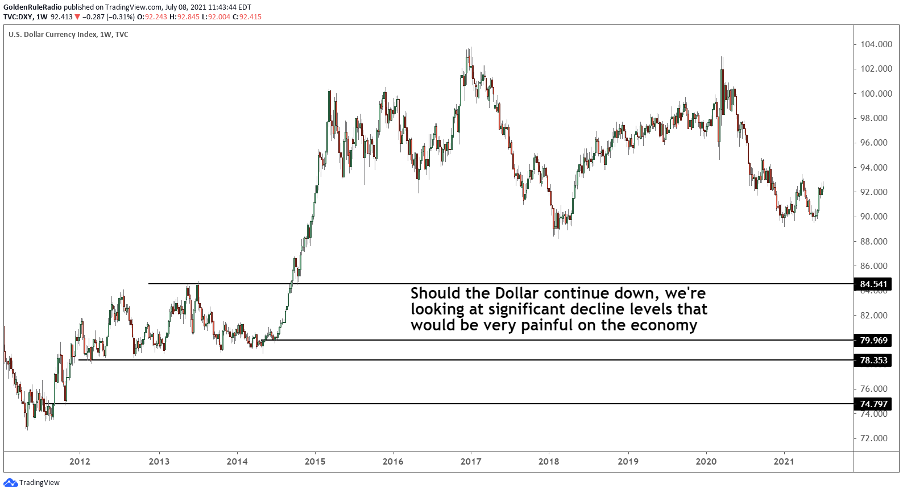 Secure gold savings, without the excessive fees.
Your weekly gold market commentary comes from our internal team of researchers and technical experts. Vaulted gives modern investors access to physical gold ownership at the best cost structure in the industry. With personal advising from industry experts and access to premier precious metals strategies, Vaulted delivers the tools necessary for life-long financial prosperity. Start protecting your portfolio today.
As always, thank you so much for reading – and happy investing!
Watch Golden Rule Radio for more of what's in store for precious metals in 2021.