We have seen some exciting action in the metals prices the last couple days.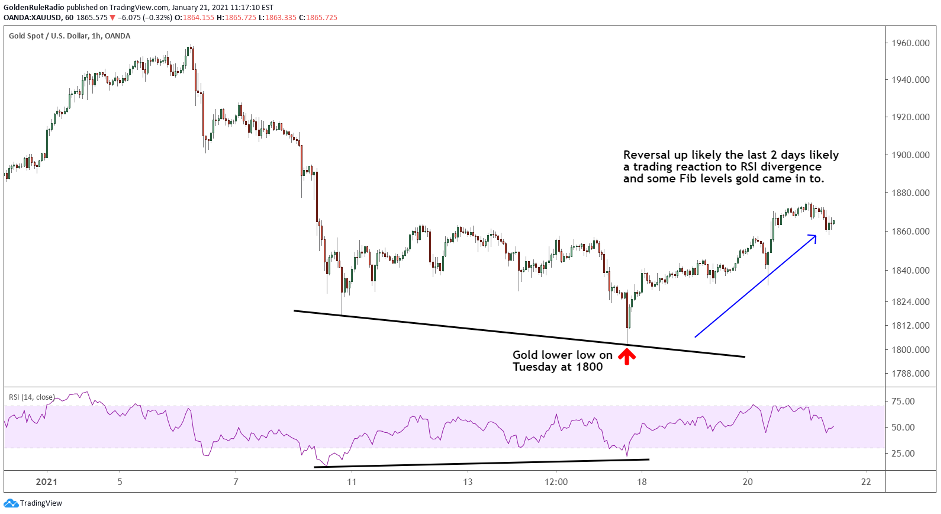 On Tuesday, gold pushed all the way down to almost 1,800 after consolidating for a few days around 1,840. Now, gold is pushing 1,870, about a 4% rise from Tuesday's bottom.
How will the Inauguration impact gold?
The biggest event impacting all markets this week is clearly the U.S. Presidential Inauguration and all the policy implications that come with it. The Biden Administration has announced a massive $1.9 trillion fiscal plan to support the economy, boost vaccination programs, and redistribute capital to people near the bottom of the income ladder. This support measure follows a year of record spending and ballooning budget deficits that place the United States in uncharted territory.
Fortunately for gold investors, these economic pressures are seen as very positive for the gold price. The combined forces of ultra-low interest rates and increased money printing are putting more and more inflationary pressure on the economy. Historically, gold has performed very well during periods of inflation. In fact, the Wall Street Journal recently called gold and silver the modern "inflation trades."
So the question is: will we see the gold price correct again and drop lower, or is it only blue skies from here? Most experts agree on gold's long-term upward trend, but no one is ever sure about short-term action. Another correction could provide a fantastic entry point for investors who have not yet bought into gold. That said, investors probably should not wait for another correction. 2021 has been full of great entry points, and those buying opportunities will continue no matter what happens in the short term.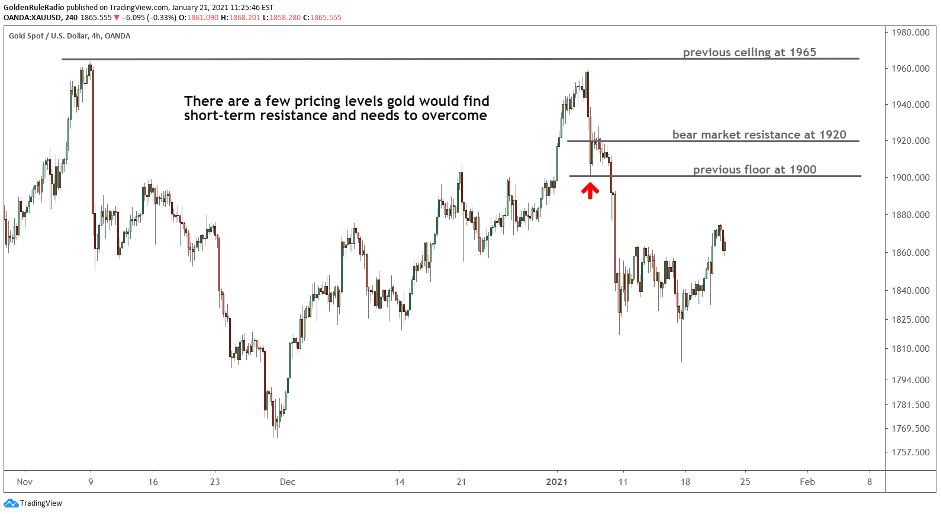 Is gold headed up from here?
To confirm its short-term bullish patterns, gold needs to overcome several obstacles. The first of those obstacles is the 1,900 price level, which was the floor we saw a couple of weeks ago. If gold breaks through that price level and continues putting in higher lows (known as "stair-stepping" upward), gold would be in a very bullish position. Another obstacle is the previous November ceiling of 1,965, which gold failed to break through on its bull run in the first few days of the year.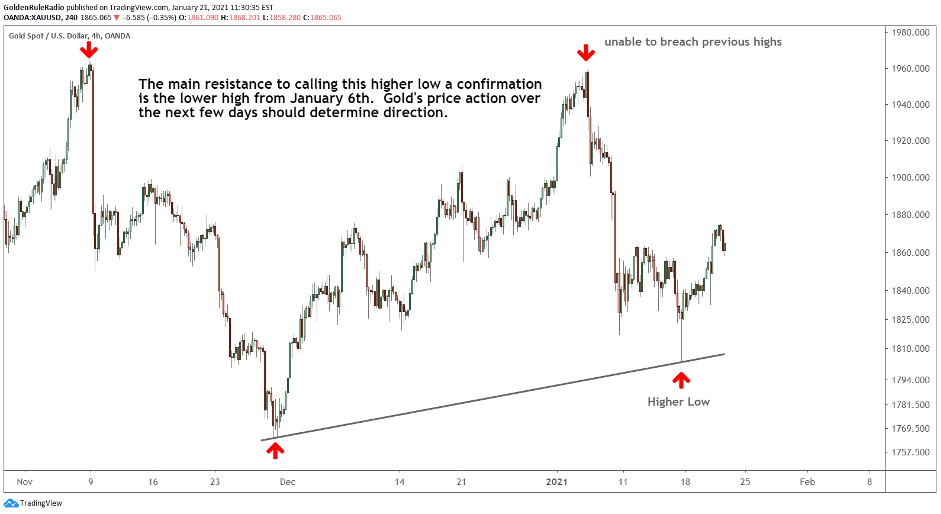 As mentioned in last week's article, gold's perfect 50% retracement on November 30th is a positive sign for short-term performance. The chart below shows the entire cycle. Gold started shooting up in March of 2020, hit an all-time high of 2,075.8, corrected down to the .5 fib line, and is now on its way back up!
How should I react?
Individual demand for gold is rising as investors discover its vast benefits as a strategic asset. Gold has been performing incredibly well in the wake of recent fiscal and economic initiatives brought on by the pandemic. President Biden, Jerome Powell, and Janet Yellen – three of the biggest voices in American economic policy – have all voiced commitment to policies that should greatly benefit gold.
There are many ways to invest in gold and take advantage of these trends. Futures contracts, physical coins and bullion, and gold-backed ETFs are all popular choices. Vaulted is a platform that pulls the unique benefits from each of these investment methods and makes them available to all investors. Vaulted has no investment minimums, robust savings plans, educational resources, personal advising, and everything else a new gold investor could need. Get started with Vaulted today to access the best, most affordable platform for gold ownership.